A Guide to 2020 St Augustine Nights of Lights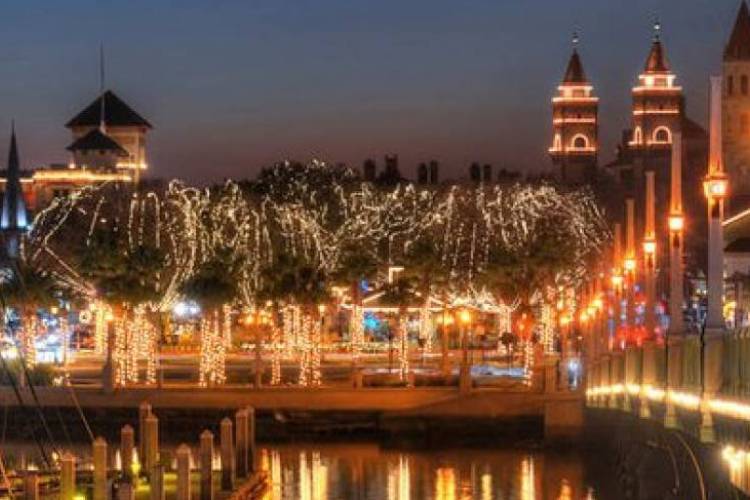 While 2020 has brought about some daily changes in our routines, we can all be grateful that the most beloved event in St. Augustine, Nights of Lights, is still taking place this year!
The beauty of America's Oldest City dripping in white Christmas lights is something you have to see for yourself. If you have never experienced the "Nights of Lights," there is no reason that this should not be your year to see it! 
Here are a few tips and trick to navigating Nights of Lights 2020 with the changes made for your health and safety:
2020 Nights of Lights Information
Night of Lights is Starting Early
Dates: November 14, 2020-January 31, 2021
The lights turn on a week early this year! To help spread the crowds over a longer period of time the dates have been extended.
No Turn On Ceremony 
There will not be a large celebratory ceremony to mark the beginning of Nights of Lights, so feel free to visit anytime and know you will not be missing this event.
View Lights from a Trolley Tour
Kids of all ages love a trolley ride through the winter wonderland of Night of Lights. Complete with Christmas carols and magic viewing glasses, it is a must do! This year, be sure to book your reservation for the trolley ride as seats are limited to allow for social distancing. Trolley reservations will be made "per row (seats 4)" as opposed to "per person."
Book a Trolley Ride:
Socially Distance with a Water Tour
A great view of the lights can be had from the bayfront and booking a private or semi-private boat ride is a great way to stay socially distanced.
Boat Tours:
Book your Nights of Lights Getaway at Ocean Village Club
Enjoy 10% OFF at Ocean Village Club for Nights of Lights Special with Promo Code: NOL2020
Call us today or book your vacation rental with us online! Stay on beautiful St. Augustine Beach to enjoy all that the Atlantic Beaches and Historic St. Augustine have to offer!