Historic Tours of Flagler College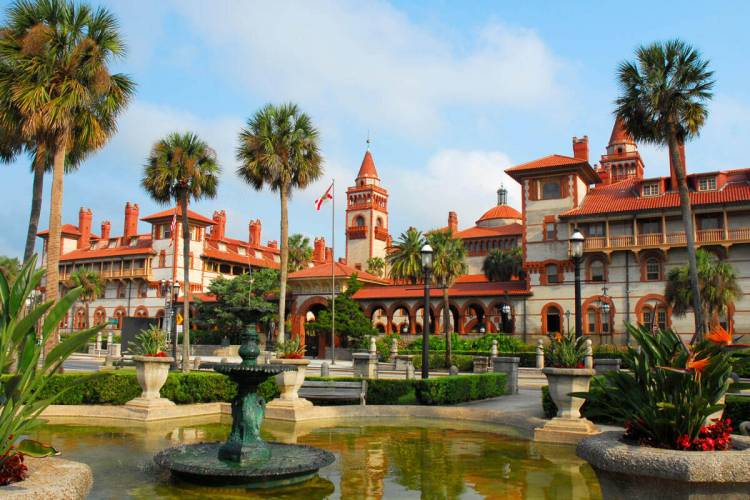 Flagler College not only has a rich heritage in education but also in historical architecture which extends back over a century. It is named for Henry Morrison Flagler, an industrialist, railroad pioneer, and entrepreneur who partnered with John D. Rockefeller as founders of Standard Oil Company.
Flagler built the Hotel Ponce de León in 1888, his first in a series of luxury resorts along Florida's east coast as part of his plan to create the American Riviera. The building is a prime example of Spanish Renaissance architecture and the first major poured-in-place concrete building in the United States and is now known as Ponce de Leon Hall. A National Historic Landmark, it is now the showpiece for Flagler College.
John Carrere and Thomas Hastings, had just graduated college when they designed the hotel and went on to design other notable buildings - the New York Public Library, the House and Senate Office Buildings next to the Capitol in Washington, D.C.
The Edison Electric Company provided power for the building through steam heat, making the Ponce one of the country's first electrified buildings. Louis Comfort Tiffany is credited with the buildings interior design including the gorgeous stained glass and mosaics. The beautiful murals in the building were done by George Willoughby Maynard and Virgilio Tojetti.
As the Hotel Ponce de Leon, it was state-of-the-art for its time and stands as a reminder of the age and man for whom it is named - diligence and commitment to high standards. Flagler College continues this high standard through the preservation of this and other historic buildings as well as providing a rich educational experience.
So, if you would like an interesting and different tour while visiting St. Augustine, please make time for Flagler College.
Summer Tour Schedule:  Thursday thru Sunday, now through August 8, 2021
Times: 10:00am * 11:00am * 1:00pm * 2:00pm * 3:00pm
Admission: $15.00
Limited to 15 people per tour.  Purchasing your ticket in advance is a good idea.  Click event website to purchase your ticket.
Please note: free admission for St. Johns County Residents is suspended for the time being.
BOOK YOUR NEXT ST. AUGUSTINE GETAWAY
Find the perfect vacation rental at www.oceanvillageclubfl.com or call us today at 904-471-7513!