Family Friendly Halloween Festivities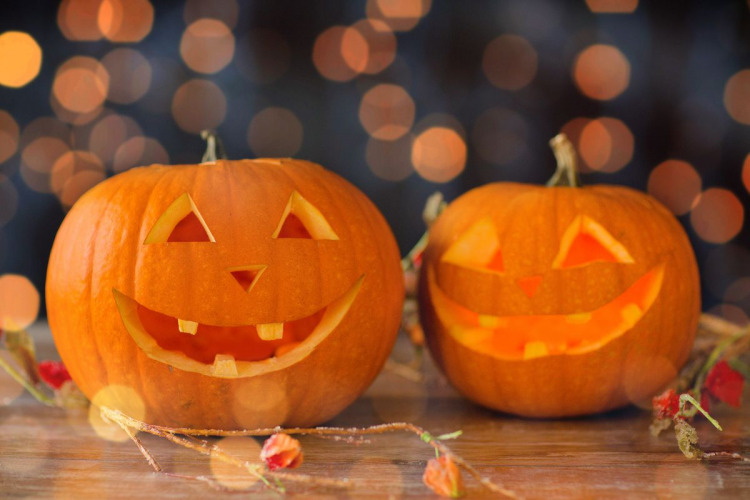 Family Friendly Halloween Festivities St. Augustine, FL
It's really no surprise that St. Augustine is known for its supernatural sightings and abundance of ghost stories. It's very likely no matter where you walk in the historic district that there is a grave under your feet! With Halloween approaching, what could be more appropriate than celebrating Halloween in the Nation's Oldest City? However, with young children Halloween can be a scary event, so there are plenty of child-friendly festivities here!
The St. Augustine Aquarium is offering a special outdoors Halloween event with trick-or-treating and a costume contest from 6 to 8 p.m. Saturday, October 30, 2021. Halloween activities at this event include cookie decorating, trick or treating at all habitats, and a haunted nature trail. The Aquarium is also planning some unique water activities including mermaids and underwater pumpkin carving. Reservations are required. For reservations, call 904-429-9777. Admission: Adults $11.99; children $6.99. Where: The St. Augustine Aquarium is located at 2045 State Road 16, St. Augustine, FL 32084, less than a mile east of I-95 at S.R. 16.
Halloween Dress up, Meet and Greet with Belle and Rapunzel, Friday, October 29 at Ready Set Play from 4:15pm-6:00pm. Princesses will not arrive until 4:30pm so we can get everyone checked in. (Early check ins for this event will not be allowed) Kids dress up and treats will be given on the way out. It is suggested you bring a change of clothing, because most costumes can get very hot when the kids are playing. Come out and enjoy some air-conditioned Halloween fun!! Play is included in admission price. Cost is $15 per child with first two adults free.
Get Your Wicked On Halloween Community Event, Saturday October 30 from 10 AM to 4 PM at the St. Augustine Outlets, 500 Outlet Mall Blvd.  (Indoor Event). This event will feature vendors, candy, characters (Mickey Mouse at 11 AM and Winnie the Pooh at 1 PM), raffles and giveaways.
Trunk or Treat - Car and Bike Show
Sun, Oct 31, 10 AM – 3 PM
Adamec Harley-Davidson St. Augustine I95
380 Outlet Mall Blvd, St. Augustine, FL
Free family event! Live music from "Bluesdog 66", Candy, Food, Vendors, and Raffles Hosted by Callahan Cruisers of North FLA
Anastasia 16 Church: Harvest Fest on Friday, October 29, beginning at 6 PM
Free event for the community to come enjoy time with the family! There will be trunk or treat, inflatables, food, music, games and more!
Anastasia 16 Church 110 Circle Dr E, Saint Augustine, Florida, 32084
(904) 823-3734
Beaver Toyota Spooktacular, October 29, 2021 from 5 to 7 PM
Join Beaver Toyota for a FREE spooky night of fun for all ages. Provided will be music, a photobooth, haunted house, pumpkin decorating, themed decorated vehicles, goody bags for the first 300 kids, a costume contest with prizes and food trucks including Sals Cochina, hot dog truck, Slushi truck, Gyro box and more! Beaver Toyota, 2995 US Hwy 1 S, St. Augustine, FL, 32086
Bridge of Life Church: Harvest Fest Sunday October 31, 2021 from 5:30 - 7:00 PM at 96 Masters Drive.
Harvest Festival hosted by Bridge of Life Church. Free games, food, candy, a Trunk or Treat, a Dunk Tank, and so much more!
Freedom Christian Fellowship: Light the Night, October 31 from 5 to 8:30 PM, 555 St. Rd. 16
Looking for a safe fun evening to take your children on October 31? Come on out to the annual Light the Night evening. There will be a petting zoo, face painting, balloon animals, hotdogs, cotton candy, snow cones games and more.
Anastasia Baptist Church, 1650 A1A South on October 27 from 6 to 8 PM. This family friendly event features trunks with treats, food, and fellowship. Visit anastasiakids.org for more information.
Anastasia Elkton, Friday, October 29, from 6:30 to 8:30 PM at Southwoods Elementary School Parking Lot
Sykes Family Farms Corn Maze, from Oct. 2 - 31 at 5995 Brough Rd. Elkton, FL - Sykes Family Farms Maze is all day fun for all ages. The maze a-Mazing! The maze is 9 acres total which consists of 4 phases. At the entrance of the maze, you have the option of filling out a "passport" – a ten question form that will help guide you through the maze. Phase 1 and 2 take around 15-30 minutes to navigate with Phase 1 being slightly shorter for the directionally challenged. Phase 3 and 4 are our "kiddie" mazes featuring the story of Jack and The Cornstalk and The Legend of Spookley the Square Pumpkin on large story boards. These phases take anywhere from 5 to 30 minutes, depending on whether you read the story.
Hours: Friday 6 pm-10 pm, Saturday 10 am-10 pm, Sunday 10 am-5 pm
$13 General Admission, $11 senior and Military, children 2 & under FREE
5995 Brough Rd, Elkton, FL, 32033
904-692-1084
Book Your St. Augustine Vacation Rental at Ocean Village Club
Stay on beautiful St. Augustine in fully equipped one and two bedroom condos. Call 904.315.6138 to book or reserve online at www.oceanvillageclubfl.com